I can't believe that the school year is over! Time really does fly with the little ones. And while I know there are a billion other things going on, one of my favorite things to do is a first and last day of school sign. I've been working on my brush lettering and put it to the test with some fun techniques that are super easy to do. so even if you are just writing in two colors here you can get a beautiful watercolor effect too!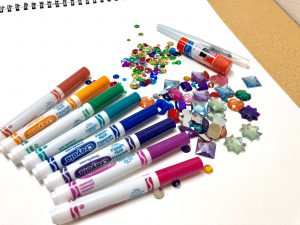 What you need:
Thick watercolor paper of any size
Washable markers (I'm partial to Crayola)
Bling Bling – I went with Glitter and Sequins
Glitter washi tape or stickers could be an easy hack for bling too
Paint brush and water or a water pen
Your trusty glue stick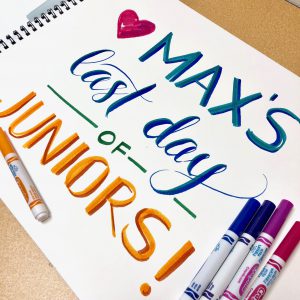 I always write out my type on a scratch piece of paper to see what spacing should look like before getting started – its kinda like a rough draft. If you want to play it safe you can very highly draw in your layout to limit error. Then go for it! I start by doing all caps with one color then adding a complimentary color next to it, or a color that will blend with it nicely. Once you have all your base colors in you can add the water! this is so simple and easy – I love it! All you have to do it add water to the washable markers and they become watercolor… how stinking easy is that?! bend your colors as you'd like, if things get too soupy blot with a dry paper towel to control. if you want some fun effects toss some sea salt on the watercolor while its wet for a star like speckled look.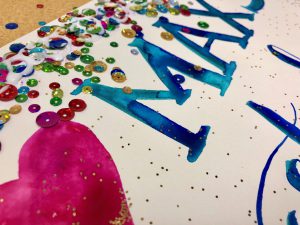 Now you can keep going or hit that bad boy with a hair dryer so you don't smudge. Next you can use your glue stick to make your glitter design. I just did some simple lines, but you could draw stars, or even add to your type.
Use the same method above with your sequins. be sure to press down gently to be sure they are adhering to the paper well.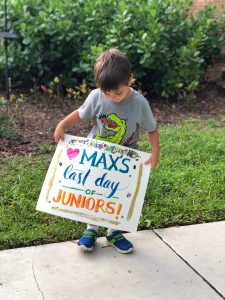 Let your piece dry completely. Once dry curve your paper a bit and dump the excess glitter into the trash (or a tupperware for re-use). And you're all set! I love comparing the first day and last day too, so don't forget to do a side by side after your official last day of school shot.
Wishing you all a fun and happy summer!
Betsy